Ripples in time: the building of Greenwich Power Station and the unintended consequences for the Royal Observatory
Lecture notes
This page is intended to support a lecture given by Graham Dolan to:
The Flamsteed Society at Greenwich on 6 March 2018
The Greenwich Industrial Society at Blackheath on 9 October 2018
The Greater London Industrial Archaeology Society (GLIAS) at Farringdon on 17 April 2019
Light Rail Transit Association (LRTA) London Area on 21 January 2020
---
Main pages on the web-site linking to the lecture
Telescopes mentioned where some of the observations were taken by reflection
Those marked * were in use at the time the Power Station was being built.
Maunder's description of taking an observation by reflection with the ATC
The following description is taken from a series of articles Maunder wrote about the Observatory in 1897/8 for The Leisure Hour. Click here to read them in full.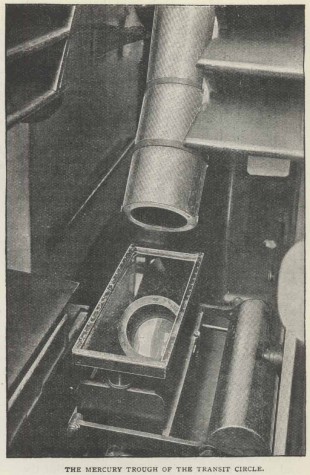 'The transit circle, on the other hand, is equally supported on both sides. This, however, does not free it from the liability to some, minute flexure in the direction of its length, from the weight of its two ends. The type of observation used to detect any such bending is a little more complicated and exciting than that already described. In this the observer makes use of a large shallow dish containing mercury, and, instead of pointing his telescope up to the star, points it down towards the mercury, and observes, not the star itself, but its image as reflected from the surface of the liquid. He sets the telescope carefully before ever the star comes into the field of view, and reads his seven microscopes. Then he climbs up a narrow wooden staircase and watches the star transit nearly half across the field. Then comes a rush, the observer swings himself down the ladder, unclamps the telescope, turns it rapidly up to the star itself, clamps it again, flings himself on his back on a bench below the telescope, and does it so quickly that he is able to observe the star across the second half of the field. There is no time for dawdling, no room for making any mistakes; the stars never forgive; "they haste not, they rest not"; and if the unfortunate observer is too slow, or makes some slip in his second setting, the star, cold and inexorable, takes no pity, and moves regardless on.'
Impact of the Railways
Additional images
* From the LCC Photograph Library (London Metropolitan Archives)
** Ballast Quay website
Addition notes for LRTA
---