The Buildings at Greenwich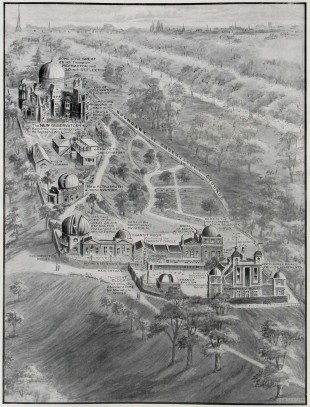 For over two hundred and fifty years, until the Working Observatory moved to Herstmonceux, the site at Greenwich evolved to meet the changing needs of its astronomers. New buildings were added and older buildings altered, extended and occasionally demolished. This sometimes involved enclosing additional ground from the Royal Park.
Today, the Observatory and its grounds are a Scheduled Ancient Monument in a Grade l listed park at the heart of a UNESCO World Heritage Site.
Of the buildings erected prior to 1950, seven survive, of which five are listed. At the north end of the site, Flamsteed House, was listed as an Historic Monument in 1929 and an Ancient Monument on 5 April 1951. Along with the Meridian and Great Equatorial Buildings, it was given a Grade l listing on 8 June 1973. At the south end of the site, the Altazimuth and South Buildings have a Grade II listing (listing dates: 21 August 2002 and 4 October 1994 respectively). The Old Stables/Garden House (now a plant room and office) along with the early twentieth century store (now a public lavatory in the Park) remain unlisted. Also listed, is the Shepherd Gate Clock and the wall built in 1960 on which it is mounted. These were Grade I listed at the same time as Flamsteed House. A letter dated 2 January 1952 in Work17/369 at the National Archives records that Royal Observatory would already have been listed by that date under the 1947 Town and Country Planning Act if it were not for the fact that it was on Crown Land and therefore exempted from the listing process.
Grade l listed buildings are those that have been deemed to be 'of exceptional interest' and are sometimes also of 'international importance' (as is the case here at Greenwich). Grade ll listed buildings are of lesser importance, but none-the-less, are considered to be 'nationally important and of special interest'.
Extracts from the Reports of the Astronomer Royal relating to the Buildings and Grounds (1836–1964)
Surviving Buildings
Flamsteed House
The Meridian Building (Meridian Observatory)
The Great Equatorial Building (28-inch telescope dome)
The South Building (formerly the New Physical Observatory), the Lassell Dome, & the Lower Store
The Altazimuth Pavilion
The Garden House/Stables/Plant Room
Demolished Buildings
The Magnetic Observatory
The Transit Pavilion
The Cookson Hut and Pavilion
The Porter's Lodge/Gate House
The New Library (Airy's)
The Yapp Dome
The Reversible Transit Circle Pavilion
Stables, workshops, sheds and other miscellaneous buildings