People: James Hodgson








Name
Hodgson, James (also known as Hodson or Hudson)


Place of work
Greenwich


Employment dates

01 Apr 1695 – late 1702







Posts
Servant & Assistant (to John Flamsteed)









Baptised
1678, Feb 25?







Died
1755, Jun 25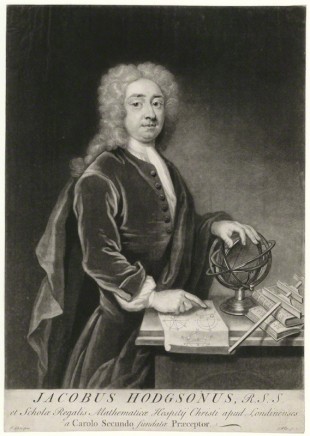 Believed to have been baptised in Clerkenwell (London), James Hodgson was the nephew of Sir Christopher Wren. In a letter dated 6 February 1701/2, Flamsteed told
Abraham Sharp
that 'Hudson is nearly out of his time', implying that Hodgson was taken on by Flamsteed on a
seven-year indenture
– as was
Thomas Weston
, who started a few years later. Hodgson stayed on after his time was up, departing at some point between 12 September and 14 December 1702 (RGO1/33/171–2 & RSMS/798/7). On leaving the Observatory, Hodgson embarked on a career as a teacher of mathematics, lecturing in the London coffe-houses.
On 31 October 1702, Hodgson married Flamsteed's niece, Ann Heming who since 1694 had been resident at the Observatory and in the care of Flamsteed and his wife. Although now married, she remained behind, at the Observatory until 1706 when she eventually moving out to join him. He was elected a fellow of the Royal Society in 1703 and in 1709, became Master of the Royal Mathematical School at Christ's Hospital, a post he retained until his death.
Hodgson was an important aid to Flamsteed when the latter's observations were published by the Royal Society without his approval (Historia Coelestis Libri Duo, 1712). After Flamsteed's death at the end of 1719, Hodgson worked with his widow, Margaret, to have the 'authorised' version of Historia Coelestis published. This was published in 1725 and the Atlas Coelestis in 1729. On her death in 1736, Flamsteed's papers and other relics from the Observatory passed into his hands.
When Hodgson died intestate in 1755, Flamsteed's papers passed into obscurity until 1771, when they were found at Islington by the surgeon John Belchier. The Board of Longitude then purchased the papers from Mrs Elizabeth Tew, the widow of Hodgson's representative, and returned them to the Observatory. They now presevered in the Observatory Archive at Cambridge (RGO1). Of the relics: one of the two Tompion Clocks from the Great Room (Octagon Room) was given to the Royal Society in 1736 and the object-glass of the Well Telescope in 1737. Both Tompion Clocks survive, one in the care of the British Museum, the other in the care of the National Maritime Museum. That in the National Maritime Museum is believed to be the one given by Hodgson to the Royal Society. (Click here to read about the clock at the British Museum and a detailed provenance of the two clocks). The object-glass which is said to be 9.75 inches in diameter, 0.36 inches thick has been on loan to the Science Museum since 1932.
Further reading
Hodgson, James (bap. 1678?, d. 1755). Frances Willmoth, Oxford Dictionary of National Biography, Oxford University Press, 2004
Hodgson, James (DNB00) (links to Wikisource)
An account of the Revd. John Flamsteed, Francis Bailey, (London, 1835)
The correspondence of John Flamsteed, the first Astronomer Royal, ed. E. G. Forbes and others, 3 vols. (1995–2001)
---
Image licensing information
James Hodgson by George White, after Thomas Gibson. Mezzotint, circa 1720. © National Portrait Gallery, London. Reproduced under a Creative Commons Attribution-NonCommercial-NoDerivs 3.0 Unported (CC BY-NC-ND 3.0) licence. National Portrait Gallery Object ID: NPG D3042.